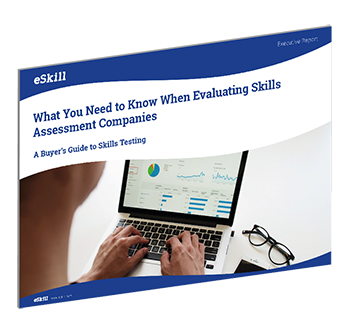 Download the Resource
What You Need to Know When Evaluating Skills Assessment Companies: A Buyer's Guide to Skills Testing
Skills testing pre-assessments are a proven method of improving hiring success. But some hiring managers hesitate about implementing them in their hiring process because they're not sure about what to look for. Our Buyer's Guide to Skills Testing gives you all the information you need to know, so that you can carefully evaluate your options before choosing an online assessment provider.
The buyer's guide shows you how to:
Evaluate testing products and services provided.

Assess whether the testing service can be integrated with current or future applicant tracking systems (ATS).

Determine the level of technical solutions included, such as mobile access, a user-friendly interface, and custom branding possibilities.
At eSkill, we know the assessment field inside and out. We want to provide you with a comprehensive look at what's out there, regarding skills testing services, so that you can make an educated choice. For more information, download the white paper.