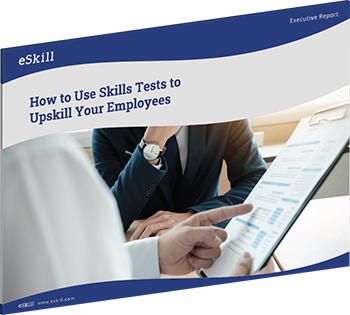 Download the Resource
How to Use Skills Tests to Upskill Your Employees
As we move further into the 21st century, digitalization in the workplace has become a reality. Jobs are changing fast and many positions are evolving or disappearing altogether, while new roles are emerging.

By 2030 as many as 800 million people– about a fifth of the world's workforce, could lose their jobs to automation.(McKinsey Global Institute)
Organizations must transform their business models to ready their workforces for the future. To do so, companies must implement strategic initiatives for upskilling employees that anticipate the skills needed in the future.
Some of these steps include:
Laying the Groundwork
Developing Personalized Learning for All
Evaluating the Effectiveness of Upskilling Initiatives
Download the Executive Report on this page to learn more about how to upskill your employees.
Thousands of companies turbocharge their upskilling efforts with skills tests. By evaluating your workforce's skills, with eSkill's unique platform and massive test library, you can implement strategic upskilling initiatives and redistribute internal talent effectively.
Well-implemented upskilling plans will enable your organization to close the gap between the skills of today and those needed to remain competitive tomorrow.
Interested in Learning How to Upskill Your Employees?