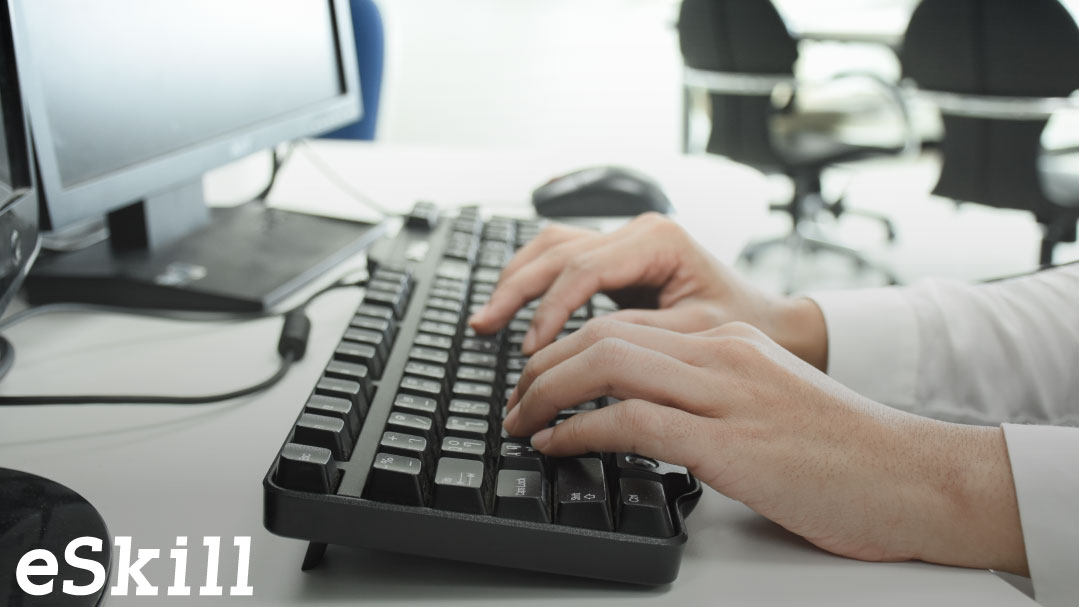 In this fast-paced digital world, basic computer skills have almost become synonymous with basic life skills. Practically every business requires employees to have some level of computer knowledge—from word processing to basic point-of-sale systems at retail stores. Even warehouse workers use portable computer devices to check inventory.
Today's technologies require companies to employ staff who possess a solid foundation of basic computer skills. Even industries that have not traditionally sought entry-level and mid-level employees with digital skills, such as the retail sector, now seek candidates with basic computer knowledge, and for good reason.
In this information age, consumers are logged on and connected 24/7, in ways that were impossible a decade and even five years ago. This shift has left many organizations struggling to find their digital feet. HR leaders identify finding and hiring qualified employees as the top challenge they faced in 2019, per the 2019 Paychex Pulse of HR Survey. But, now it is possible to narrow the gap between skills and demand.
When it comes to finding qualified entry-level and mid-level talent, using a basic computer skills test to evaluate job applicants' typing abilities and knowledge of productivity software, and web applications is the key to reducing employee turnover, increasing productivity, and decreasing the time-to-hire. eSkill's suite of customizable skill-specific and comprehensive position-relevant tests allows employers to effectively and efficiently identify candidates with the required skills. Automating the initial screening process with eSkill's validated testing software ensures applicants have the basic computer skills to succeed.
Types of Basic Computer Skills Tests
eSkill offers hundreds of customizable single-subject tests such as Word®, Excel®, Typing: 10-Key Data Entry, Chat Simulation, Digital Literacy Simulation, and Email. These computer skills tests can be combined with any of eSkill's tests to create a comprehensive evaluation of a position. Many of these tests include simulations, used to obtain a realistic measure of candidates' proficiency in any number of software programs.
Typing
Fast and accurate typing skills are required for most positions. Measuring candidates' typing skills provides employers with insight into job candidates' ability to quickly and accurately transcribe text and audio recordings on a standard or 10-key keyboard. Hiring employees capable of fast and accurate typing increases productivity, impacting the company's bottom line.
eSkill's typing tests include:
General Typing (Long & Short Version)
General Typing Audio
Typing: Legal
Typing: Call Center
Typing: Financial
Typing: Medical
Typing: 10-Key Data Entry (Long & Short Version)
The typing tests evaluate candidates' ability to:
quickly produce and send error-free correspondence;
accurately and efficiently complete forms and documentation;
and create work with few errors and,
complete administrative tasks unassisted.
Use eSkill's typing test to quickly and easily evaluate the typing ability of entry-level or experienced candidates in a wide variety of positions requiring fast, accurate typing capabilities.
Office Productivity Software
Millions of users and organizations rely on Microsoft Office® Software and G Suite (formerly Google Apps) to create and distribute invoices, statements, business reports, marketing materials, and more. Because they are so widely used, using basic computer skills tests to identify employees who can navigate the basic functions of productivity software can reduce the new-hire training period and increase productivity.
Seventy-eight percent of mid-level jobs, such as administrative assistant or store manager, require proficiency in productivity software, according to a recent report. Further, fifty-three percent of these positions are for entry-level candidates. Accurately assessing candidates' basic productivity software proficiency helps employers choose candidates with the ability to create, edit, and share professional materials.
Choose from eSkill's large library of productivity software skills tests to quickly gauge candidates' proficiency. eSkill's productivity software skills tests include:
MS Office – Excel®
MS Office – Outlook®
MS Office – Word®
MS Office – PowerPoint®
MS Office – Project®
MS Visio®
MS Office – Access®
G Suite®
Use eSkill's productivity software skills tests to automate your screening of entry-level or experienced candidates easily. Basic computer skills tests help you ensure job applicants have at least some understanding of how to operate the programs required in specific jobs.
Operating Systems & Internet Browsers
Evaluating candidates' ability to navigate the Windows operating system or the operating system that will be used in the position is integral to gaining a full understanding of applicants' digital literacy.
eSkill's operating systems and internet browser tests include:
Firefox®
MS Windows®
Google Chrome®
The operating systems and internet browser tests predict job candidates' ability to:
launch applications
browse the file system
search for files
read and comprehend error messages, and
the ability to read and follow instructions given by the operating system when installing programs or altering settings.
Use eSkill's operating systems and Internet browser skills tests to evaluate candidates of varying levels. These tests are available in a variety of difficulty levels and can be easily customized to match the processes and procedures of any organization.
Email
eSkill's email skills test makes it easy to find candidates who understand email functions and follow standard guidelines to relay information. The email skills test quickly identifies candidates capable of responsibly communicating via email.
eSkill's email skills test evaluates candidates' ability to:
compose meaningful correspondence
follow procedures that ensure successful delivery to the appropriate contacts
organize emails so it is possible to track, access, and reference them later, and
understand and utilize email functions, terms, and tactics.
Use eSkill's email skills test to screen candidates for any position that requires employees to write, send, or receive email communications.
In addition to these single-subject skills tests, eSkill offers hundreds of off-the-shelf skills assessments designed to evaluate all of the skills required of jobs such as Administrative Assistant, Customer Service Representative, Call Center Manager and Office Clerk. Job-specific skills tests evaluate basic computer skills, job- and industry-relevant content knowledge, and other necessary skills for positions.
Requiring candidates to take basic computer skills tests not only provides employers with the quantitative data to make informed hiring decisions but also allows them to predict the time it will take to onboard new hires.
Interested in Basic Computer Skills Tests for Hiring?
Learn more about the benefits of using eSkill's computer skills tests to find qualified candidates quickly.
Request a demo today.