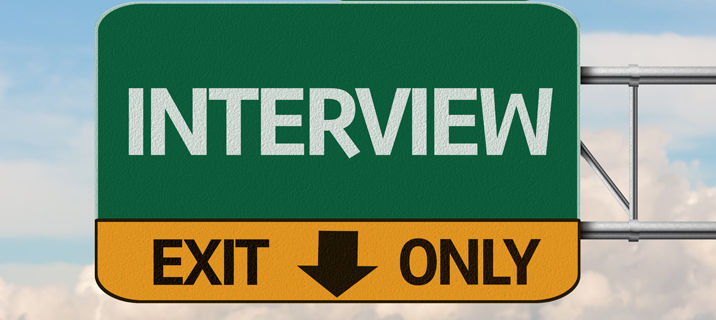 When an employee is either fired or quits, it's customary to have one last round of interviews in the hope of learning about what led them to this point, so that the company can change its policies to correct any problems or issues. These interviews are presented as no-pressure meetings, because the employees have already terminated their relationship with the employer, so they may be more open about the issues involved. However, for many HR professionals, these interviews are considered to be a waste of valuable time, and the information provided is seen as lacking invalidity. We've come up with a shortlist of the pros and cons of the exit interview, so you can be the judge of whether or not they're worth your time.
PROS:
Improving company processes: If you take the exit interview seriously and really listen to those who are leaving your company, you'll have an opportunity to improve processes within your organization. More than 26 percent of employees leave a company because of a lack of development in their areas of focus, according to the Accounting Principals' latest Workplace Insights Survey. Knowing about these issues can allow you to take the next step toward improving them.
Fixing behaviors in the workplace: Some people leave because of the behavior of co-workers – maybe a manager or co-worker was bullying or harassing them, and no matter how many times they reported the issue it was never resolved. It's also very possible that they were too afraid to report the issue while they were employed, and during the exit interview, they may feel free to report everything. This gives you a chance to look into a potentially serious problem before more employees leave.
Providing immediate feedback to the interviewer: An exit interview provides immediate feedback to your Human Resources department, and that feedback can be more valuable than you may think. When someone decides to leave a company, schedule an exit interview with him or her before the final day. If you're still paying them to be there, they'll be more willing to take the time to talk, and be more honest.
CONS:
A lack of follow-up: One of the cons of the exit interview is that there is often a lack of follow-up. Sometimes it's because the HR department doing the interview isn't taking the candidate seriously, or it may be that they just don't have enough time to perform adequate follow-up.
Low participation for telephone exit interviews due to caller ID: Many ex-employees will opt out of the exit interview when it's performed via telephone and they're able to see that their former employer is calling. Once an employee makes the decision to quit a job, they often want to check out of everything having to do with the company.
Time-consuming: Let's face it, your average HR professional is already bogged down with tasks that seem to take all of their time. If you have a mass exodus of people or even 2-3 people leaving, it takes time to arrange, conduct, decipher, and create action plans based on the information. If you don't have time to maximize the results, it may just not be worth doing.
Now that you've seen the PROS and CONS of exit interviews – what's your take?
Beating the Odds – Effective Talent Retention Strategies
Hiring employees is only the first step on the way to building a strong and engaged workforce. Employee retention is critical to a successful business, since you cannot achieve your goals without experienced and qualified staff. Retaining the best talent is a real challenge today, and one that requires a complex and careful approach.
View Now