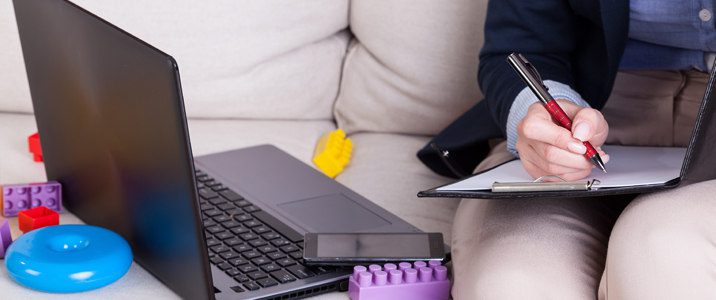 You walk in the office and you see all of these little people being paraded about by their parents, and it hits you like a ton of bricks "Oh snap! It's Bring Your Kids to Work Day." Most parents will remember and proudly drag their child into the office for a full day of shenanigans. So you hurry to your office or cube and scramble to find some candy or a cool toy for them to play with when they stop by. But realistically, you were not ready because your manager did not remind you–because HR didn't remind her. 
The History
If you don't know already, each year, the fourth Thursday in April is Take Our Daughters and Sons to Work Day in the U.S and Canada. Take Our Daughters and Sons to Work Day (or TODASTW) was initially called "Take Your Daughter to Work Day," and it was created in 1993 by the Ms. Foundation for Women's President Marie C. Wilson, with support from the foundation's founder Gloria Steinem. In 2003, they decided to include boys and changed the name. (Score one for men everywhere!) The idea is to show kids what their parents do and why it's important to get good grades and get along with others in school, because basically you'll be doing this for life. But if we are being honest, not all jobs are kid-friendly and not all kids are job-friendly. There are plenty of articles on the internet about the "dangers" or "cautions" of TODASTW – some include hilarious stories and others offer sound advice, like the one on Forbes.com titled "The Dos and Don'ts of Take Your Kids to Work Day." So let's tackle this from a different angle. Should you actually bring your kids to work on TODASTW Day? 
The Rules
Well, first we'll take some liberties. Let's assume that your job is kid-safe and -friendly – meaning you don't work in a chemical plant, you aren't an undercover police officer, you do not work in a nightclub, and there is no chance of your child being put in harm's way. Next, let's assume that your child is age appropriate. Infants and toddlers are cute, but for most jobs they would be waaay too fussy to be there an entire 8 hours. And finally, this one is tough but needs to be said, ahem…you know your child better than anyone, so you know if your child is particularly difficult and can be quite temperamental. Oh, c'mon – you've seen how she behaves in the grocery store, movie theater, and restaurants, so you know if your child is a handful! And if so, don't make us all suffer. 
The Plan
If your company is going to participate in TODASTW, then I think management and HR should be involved, not as policy police but as coordinators and organizers. They should make sure that all parties involved (parents, kids, and co-workers) have a great TODASTW Day, and here's how.
Buy games, a lot of games. Go to your nearest toy store and purchase some fun games and activities. If you don't have money in budget, ask the parents in your company to bring some games and toys from home.
Get some movies. Kid-friendly, fun, safe, non-offensive movies are the ticket.
Have plenty of snacks. Not too much sugar, though, or those kids will be bouncing off the walls.
Plan some work duties for the older kids. Seriously, let them send a fax or something. (Do people fax anymore?) Well, you get the picture.
Have a board meeting. Get the President and/or Director to come in and introduce themselves to the children. Then discuss the origin of the day and what it's all about. Be sure to ask the kids some questions–get them involved.
Here's one last suggestion. Really make it a fun experience for all by treating it like a day at the zoo or the museum and bringing in some children's entertainment, light exercise activities, a catered lunch, and maybe even a planned siesta (if you're lucky). Colleagues are revealing another side of themselves when they bring in their kids, and it can go a long way toward building camaraderie and better connections among team members if companies embrace it.
Chris Fields
Chris Fields is an HR professional and expert resume writer with more than 13 years of experience as a former practitioner and current HR consultant. He is the curator of two websites: CostofWork.com and ResumeCrusade.com , and contributes HR-focused content to many others, including PerformanceICreate.com and SmartRecruiters.com . He has been listed by the Huffington Post as one of the "Top 100 Most Social Human Resources Experts to Follow on Twitter", one of the "Top 40 under 40" by the HR Blogger Network, one of the "25 Must-Read HR Blogs in 2013", and also featured on Oprah.com. He is very active with the Society of Human Resource Management, working closely with conference directors, communication chairs, and social media teams from Illinois, Oklahoma, and Tennessee to develop social strategies to engage attendees and enhance their conference experience. Chris earned his master's degree in Labor and Human Resources from Ohio State University. In 2005, he moved back to his hometown of Memphis, TN, where he has developed a reputation for helping his clients create HR strategies, and individuals master the tough economic challenges of the South.