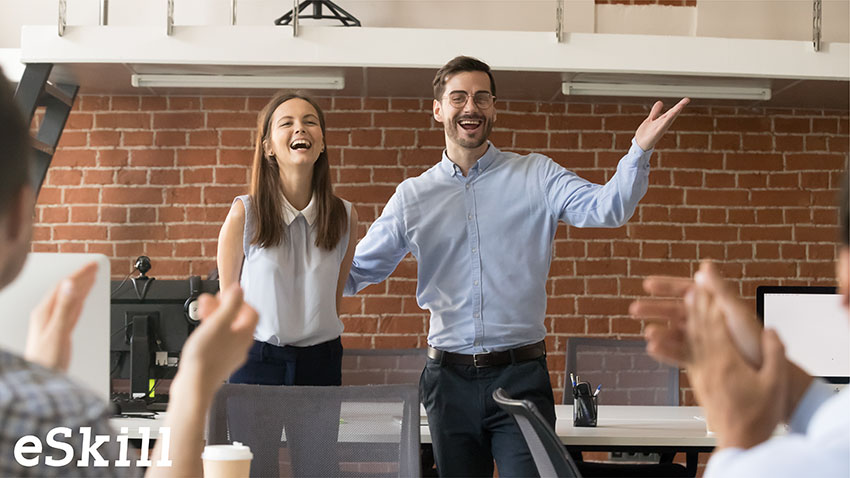 Behavioral assessments allow companies to gain insight into how candidates work, communicate, and think. Specifically, pre-employment behavioral assessments identify a candidate's psychological traits, allowing hiring managers to better determine if that candidate would be successful in the role and the organization. Combined with skills tests, behavioral assessments can help employers pre-screen candidates before the first on-site interview.
Besides personal experience, nothing can demonstrate the benefit of behavioral assessments, combined with skills tests, better than examples.
Let's look at three different case studies, giving you further understanding of the benefits of behavioral assessments.
Banner Health
Banner Health is one of the largest non-profit hospital systems in the U.S., with 35,000 employees providing services in 23 hospitals and health care facilities, across seven states. In 2010, Banner Health was named one of the top 10 health systems in the country and continues its reputation for excellence today.
Banner Health partnered with eSkill, creating online job-specific assessments for its medical training program. Using eSkill's Author, the company uploads its own questions, creating customizable, adaptable tests for its employees. As a result of implementing skills tests, Banner Health has evaluated more than 4,000 staff members across all locations, while updating its content every two to three months.
Additionally, Banner Health uses eSkill to assess the skill levels of new hires while determining their best individual training plans. By meeting the educational needs of its employees, Banner Health continues its reputation as a great place to work.
"We use eSkill to validate the nurses' ongoing ability to interpret various types of rhythm strips correctly. We have been able to change the way we teach our rhythm identification classes, because we now have data related to the common mistakes made by our staff in rhythm identification or patient management."
Peggy Martin, MSN, RN, BC, Clinical Development Professional, Banner Critical Care Academy
Read more about Banner Health's assessment experience with eSkill here.
Zappos
Since 1999, Zappos, an online shoe store, has catapulted to over $1 billion in annual gross sales, while maintaining its energy, innovation, and community feeling of a start-up. Since its inception, Zappos has earned multiple awards and recognition, including the Innovation All-Stars from Fast Company and Fortune's Best Companies to Work For.
Teaming up with eSkill, Zappos began using pre-employment assessment tests for typing. However, the use of skills and behavioral tests have grown over the years, with Zappos now focusing on assessing content managers and customer service representatives.
For example, Zappos' content managers must be well versed in products, being able to write concise, accurate, and grammatically correct product descriptions inspiring sales. Zappos' customer service representatives must be able to relate to consumers, requiring proficiency in grammar, typing, and the company's intranet.
By implementing behavioral and skills tests, Zappos experienced less employee turnover and training time for new hires (down from four weeks to one week). Additionally, Zappos received positive feedback from trainers is able to easily and quickly identify star recruits for dedicated teams.
"The wide variety and customizability of eSkill's online testing allows us to pre-screen many of our candidates before they even get in the door. And this is key, because once a potential hire shows he/she possesses the skills necessary to do the job, our recruiters can concentrate on the second—and equally important—part of the screening process: the cultural fit. eSkill helps us assess a high volume of candidates in a fast, easy and efficient way."
Christa Foley, Recruiting Manager, Zappos.
Read more about Zappos experience with eSkill here.
OSF Global Services
OSF Global Services is a technology company specializing in Application Development and Technology Integration. OSF has 550 employees globally,and is headquartered in Quebec, Canada. In 2017, OSF grew from 450 employees to 550, creating challenges for the human resources department.
For example, the HR department needed to focus on recruiting and hiring employees not only with the right technical skills but also a "can-do" attitude to keep up with the company's growth. For each open position, the HR department identified the skills needed through a job and professional competencies analysis. Once HR professionals identified all critical requirements for each position, a multiple-subject pre-employment assessment was used for each post, with only the candidates with the highest scores called back for subsequent interviews.
By teaming up with eSkill and implementing pre-employment skills and behavioral tests, the HR department's time was spent on the best candidates for the open position, while routine recruiting tasks such as resume reading were reduced or eliminated. OSF shortened the time dedicated to finding the right candidates from over 30 days to 10-14 days. Further, OSF reduced screening costs by 64%.
"Our strategic partnership with eSkill has most helped us in terms of recruitment for jobs which demand very specific and measurable skills, such as that of an IT programmer. The specifically targeted online assessments helped us set up entire teams of professional programmers who have taken our business to the next level and have contributed to establishing long-lasting business relationships with our clients. We found that administering eSkill tests offered all the information we needed when hiring, and was a great economic solution."
Andreea Hrab, HR Director, OSF-Global Services
Read more about OSF Global Services transformative experience with eSkill assessments here.
Learn How eSkill Can Help
To hire the best candidates for your company, combine skills tests, behavioral assessments, and video interviews into a seamless candidate experience. You can customize your assessment tests based on your business or industry, giving you objective insight into the best-suited talent. Additionally, with eSkill, you'll get expert human resources advice and 24-hour tech support.
eSkill's assessment coverage is the broadest in the industry and covers areas such as Administration, IT, Retail, Customer Service, Staffing, Industrial, Healthcare, and many other industries. eSkill's assessment tests have been used by Amazon, Zappos, Banner Health, and thousands more companies.
Request a demo and see how eSkill can help transform and innovate your recruiting.