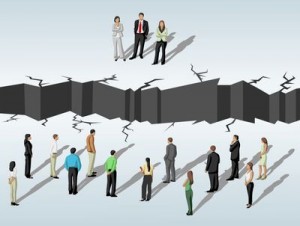 As the workplace evolves, employees are being charged with learning new skills, developing old skills, and learning to be proficient in all areas across the board.
Workplace efficiency could mean combining two jobs into one, even if a current employee lacks a certain skill, or expanding the job role of one individual to prevent a future hire. To stay on top in our changing world, skills testing allows employers to see where their employees stand in reference to specific skill sets.
A recent report showed that a growing skills gap is the cause of many hiring woes and challenges faced by recruiters.  We'll discuss how organizations can use workplace skills testing to help identify current employee and team skills gaps, so that managers can prepare a plan of action to address current and future areas of concern.
A skills gap is defined as "a significant gap between an organization's skill needs and the current capabilities of its workforce. It's the point at which the organization can no longer grow or remain competitive because they don't have the right skills to help drive business results and support the organization's strategies and goals."  There are some telltale signs that your organization is facing a skills gap. These range from a mismatch between the organization's needs and the capabilities of the workforce, a high percentage of Baby Boomers in your organization that is soon to retire, or a growing number of high skilled, specialized jobs needed to take the organization forward.
If your organization is suffering from some of those gaps don't worry, we have some tips to help you get your company back onto the path of recovery and growth.
The first thing you'll want to do is to see where your employees are at when it comes to how well they perform their jobs. A perfect way to do this is to test them. Skills testing can provide a good benchmark so that you can see where your employees are before you get started. Then, you can test them again after training and development have been completed.  This will also allow you to see which employees are able to learn more quickly.

Secondly, you'll want to invest in training and development. If you want to be the best company out there, you must provide continuous training to support your initiatives. Invest in seminars, conferences, speakers, and anything else that might help your employees be the best they can be. It's very likely that your workplace has four generations working together, so knowing what works best for each generation can save you time and money in providing the right training.

Once you've provided training opportunities for your employees, you'll want to create an environment that recognizes the accomplishments and rewards learning that supports your organization's overall strategic vision. When employees go above and beyond in their professional development, reward them. Their initiative and drive could wind up making your company millions.
So you may be thinking, now what? You've established a benchmark, invested in employee training, and rewarded their training, so what else is there left to do? Benchmark again to find remaining deficiencies. An employee of an organization that wants to be #1 in its industry must be able to adapt to the changing workforce and learn effectively. If your company is suffering from a skills gap and your current workforce can't keep up with the changing dynamics, it might be time for a change in your staff.
The last thing you must do to keep an active, strong workforce is provide the right type of environment to keep top talent. Providing certain perks, like telecommuting and other benefits that are comparative to others in your industry, is important. If you have top talent, hold onto them.

The biggest problem is that other companies that are able to provide a certain atmosphere may go after your top talent because they have something that all employees want. Don't rely on a big paycheck to keep your top employees. Great working conditions motivate top talent.
If you think your company might be suffering from some form of the skills gap, ask yourself the questions above. If you determine that you are, follow these simple steps to help overcome it: use skills testing, train your employees, benchmark everything, provide continuous training opportunities, and, once all of that is accomplished, make sure to provide an environment that keeps top talent.
Have you ever worked in a company that had an identifiable skills gap? What did you do?
Measuring Quality of Hire: Defining Top Performance
This infographic will provide an overview on how to evaluate the quality of hire for both potential employees and new hires. This can help your organization to predict performance success as well as to measure productivity on the job.
View Now
Jessica Miller-Merrell
Jessica Miller-Merrell, SPHR, is an author, speaker, Human Resources professional, and workplace social media expert who has a passion for recruiting, training, and all things social media. She is the president and CEO of Xceptional HR, and a leader in the HR community with more than 12 years of industry experience. The author of Tweet This! Twitter for Business, Jessica was named by HR Examiner as the second most influential recruiter on the Internet and the seventh most powerful woman on Twitter. She is a columnist for both SmartBrief and The Huffington Post, in addition to Blogging4Jobs and Human Resources One on One. Jessica has been interviewed for professional articles in CIO Magazine, Entrepreneur Magazine, SHRM's HR Magazine, and on CBS. Jessica earned a Senior Professional in Human Resources designation in 2008, and holds a bachelor's degree in Anthropology and Business from Kansas State University. Originally from a small town in Kansas, Jessica currently lives near Oklahoma City with her husband, Greg and daughter, Ryleigh.