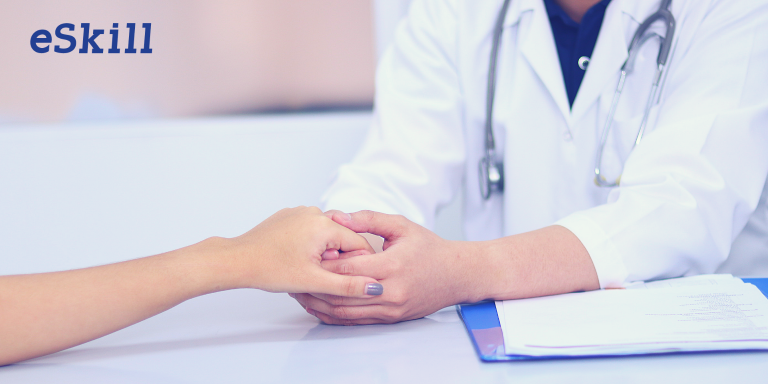 The Bureau of Labor & Statistics predicts that employment for home health aides will grow by about 41 percent over the next ten years. The growth is driven by aging baby boomers and demand for in-home healthcare services.
The home health aide provides services that include overseeing the administration of prescribed medications, assisting with personal services such as bathing and grooming, helping clients get dressed, accompanying them to their doctor visits, changing bandages, and checking vital signs. Most often home healthcare agencies hire home care professionals and then deploy them to patients' homes. Another 20 percent of home health care aides work in continuing care, skilled nursing, and developmental disability facilities.
To hire the best home health aides you have to know 1) how to reach a large pool of candidates and then 2) how to accurately and efficiently assess them in an EEOC-compliant way that will attract the most qualified applicants.
Reach a Large Pool of Candidates.
Leverage Social Media – According to Lydia Ostermeier, president of the National Association for Health Care Recruitment, a digital and social media presence is essential to connecting with Generation X and Y who make up the vast majority of the workforce. "A lot of the organizations are using mobile apps, where people can apply online using their mobile device," she noted.
Make sure you've optimized your social media profiles in LinkedIn, Facebook, and even Twitter, to feature and promote your open job postings. Then use social media advertising to amplify and reach more candidates. Some successful healthcare agencies go a step further and create online communities for caregivers that encourage them to stay engaged as they change jobs.
Post to Aggregator Sites – general and health care job boards are a great way to take your position posting to the places where candidates are looking. Because most people go into the profession because they want to help people, be sure to talk about the rewarding experiences candidates can gain by serving in the role.
Reach Candidates Throughout Their Employee Journey – It is advantageous to market to candidates throughout the full employment lifecycle when recruiting. In addition to reaching out to new talent, think about reactivating of former candidates, leveraging referrals and how you can best retain current home health aides.
Accurately Assess Candidates with Home Health Aide Tests
The best way to assure that the candidate has the skills required for the position is to use home health aide competency tests for pre-qualification. These skills tests ensure that the candidate has the job-specific aptitude required to succeed in the job.
The job specific requirements can include duties from monitoring and supervising a patient's condition, helping them with hair care, dental care, and shaving to teaching the patient to bathe or walk with a walker. In addition to the medical knowledge, a home health aide is required to possess some interpersonal skills such as communication skills, active listening, attention to detail, time management, positivity, patience, physical strength, and stamina.
Step 1: As a first step, we suggest conducting a job – analysis to discover and prioritize the essential job responsibilities for the role. Then verify the minimum level of education required. Home health aides typically need a high school diploma or the equivalent, though not all employers require it.  
Step 2: Then you are ready for skills testing. There are two primary ways to test home health aids. One way is through Predefined Tests. These are off-the-shelf, single-subject tests with questions that offer a quick-start solution, and then show proficiency with the fundamentals. The second way is through Job-Based Tests. These are online-assessments designed to evaluate candidates for a specific job title with questions in applicable subject areas and situations on the job.
With eSkill healthcare skills assessment tests, you can deploy highly relevant assessments, customized to each job, to predict job-skill fit for your caregiver staff.
The eSkill Home Health Aide test covers several topics including primary care skills, maternal and infant care, caring for terminally ill clients, responsibilities and legal rights. You can combine the home health aide skill tests with other tests such as the nursing skills test, which covers subjects like wound care, nutrition, infection control, and respiration. If you need to hire for childcare, we suggest combining more subjects such as child development, child growth, child guidance and interactions, equipment and materials.
Step 3: Leverage video interviewing. A pro tip is to leverage voice and video technology to interview candidates remotely. eSkill's voice and video interviewing platform helps you determine if the candidate has the presence, communication, and emotional skills to be successful. It is a seamless candidate evaluation tool.
Learn more about how eSkill helps home care recruiters with the most accurate, valid home health aide skills test on the market. Contact us today.