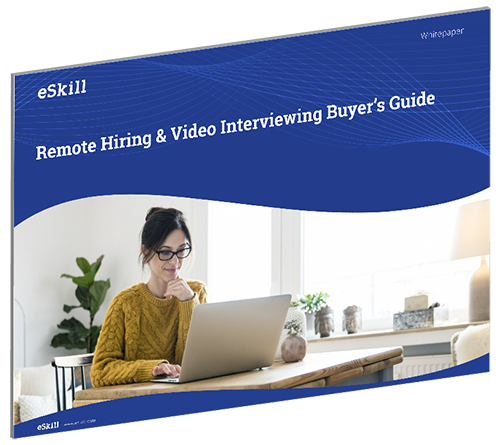 Download the Resource
Buyer's Guide: Remote Hiring and Video Interviewing
If you are an HR manager, you will probably remember 2020 as the year your world turned upside down. You may have never hired employees online or considered remote working as an option for your employees. However, Coronavirus made it necessary to quickly implement remote working policies.
Now that your company is re-opening, you have new concerns. First of all, you need a way to screen and hire new employees quickly and perhaps re-evaluate current employees. Second, you need a remote hiring process that enables you to recruit and interview while observing social distancing recommendations and guidelines. Finally, the solution must help you assess candidates' ability to work remotely because studies show that the number of employees who work from home will increase post-pandemic.
A viable remote hiring solution must include features such as customizable skills tests, access to an online test library, on-the-job simulations, on-demand video interviews, and behavioral assessments. It should also offer collaboration tools to facilitate group interviews and should integrate with your applicant tracking system (ATS).
Download our Remote Hiring & Video Interviewing Buyer's Guide and use the provided checklist to plan how you will retool your hiring process to work in a post-COVID-19 world where remote hiring is the norm.