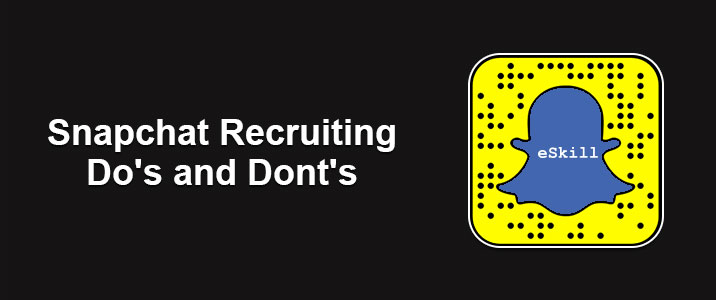 When Snapchat launched in 2011, few recruiters would have predicted that it would become one of their favorite recruitment tools. From it's inception as an odd little app that erased images a few seconds after they were sent, it has evolved into a unique storytelling tool and the premier social network for the younger generations.
Using social media for recruiting is nothing new, but Snapchat's strange world of self-destructing snaps and 24-hour stories is one that many recruiters have hesitated to engage with.
But as more and more talented young people (and savvy recruiters) flock to the platform, learning how to use Snapchat as a recruitment tool is no longer optional.
How Snapchat Works
Snapchat is definitely one of the more exotic social media recruiting tools. Unlike any other medium, Snapchat content has a very short lifespan. Photos and videos disappear within a few seconds of being opened by recipients, and "stories"—collections of photos and videos—only last 24 hours.
For young people who live in the moment and want to share real-time experiences, these time limitations are part of the fun. And while the idea of disappearing content may be frustrating to recruiters, Snapchat has the potential to become one of your most powerful recruiting tools.
Recruiting Millennials
Snapchat works a little differently from other online platforms, but few social media recruiting tools can connect you more effectively with young people. If your company is serious about hiring the next generation of talent, take a look these numbers:
Compared to LinkedIn and even Twitter and Facebook, Snapchat offers a far greater concentration of Millennials who are actively engaged on the platform.
Enhancing Your Brand
Using social media for recruiting is a great way to reach more potential candidates, but Snapchat can also help you showcase your recruitment brand.
Since nothing lasts on Snapchat, Snapchatters spend less time trying to be perfect, and focus instead on being authentic, unedited, and genuine. When your company participates on Snapchat, it shows people that you're willing to engage truthfully, be human and real, and share your company culture generously and fearlessly. That level of authenticity is hugely attractive to Millennials, and is a key factor driving their career decisions.
 Who's Using Snapchat to Recruit?
In 2014, few recruiters had even heard of Snapchat. By 2015, 3% were already using it as one of their recruitment tools. And in early 2016, JP Morgan made one of the biggest themed recruitment ad buys on Snapchat as part of an aggressive Millennial recruitment campaign.
Other Snapchat recruiters include Goldman Sachs, who launched a series of Snapchat recruitment ads to reach college students across the US. In nine days, the ads received 2.1 million views, boosted organic search 82%, and triggered an 11% increase in overall traffic to Goldman's career website.
Most recently, AOL ran 10-second Snapchat recruiting ads that featured live interviews with employees and were designed to encourage women to apply. In a survey of women who viewed the ads, the intent to apply for a job with AOL increased by an incredible 18%.
While it's a new medium with new rules of engagement, recruiters who take the plunge are being rewarded with significant exposure and a positive response.
Snapchat Dos and Don'ts
If you're curious to explore the platform, but you're not sure how to use Snapchat as a powerful recruiting tool, here are the essentials:
Don't be boring or self-promotional. Snapchatters will only engage if your content is visually interesting, relevant, and makes THEM the center of attention.
Don't waste time making your snaps and videos look perfect. Snapchat is about capturing the moment, warts and all. Remember, whatever you share will be gone in 24 hours!
Do use geofilters—which target your content to people in specific areas, such as at job fairs and other on-site events. You can target as large or small an area as you want.
Do tell the "up-close-and-personal" story of your company. Many companies hand the account over to different employees so they can record a day in their working lives.
Do reward Snapchatters by giving them a first glimpse of something new. Consider premiering new content or job opportunities on Snapchat, so Snapchatters get the news first.
Do you use Snapchat as a recruitment tool? Let us know in the comments section!
Today's Human Resources Top 6 Competencies Every HR Professional Must Possess
HR professionals today face challenges unheard of in earlier, simpler times. From strategic thinking to technological proficiency, our list of core competencies will help you determine where your strengths lie and where you may need to brush up on your skills.
View Now
Kelly Painter
Kelly Painter is the Vice President of Sales of eSkill Corporation. She has over 12 years of experience working in talent management. Kelly has a broad background in scoping talent solutions, implementation planning, delivery of services, and strategic planning on behalf of her clients. As a talent management solution provider, she has delivered real business results to her customers, while leading and developing a high-performing team of sales and service professionals.