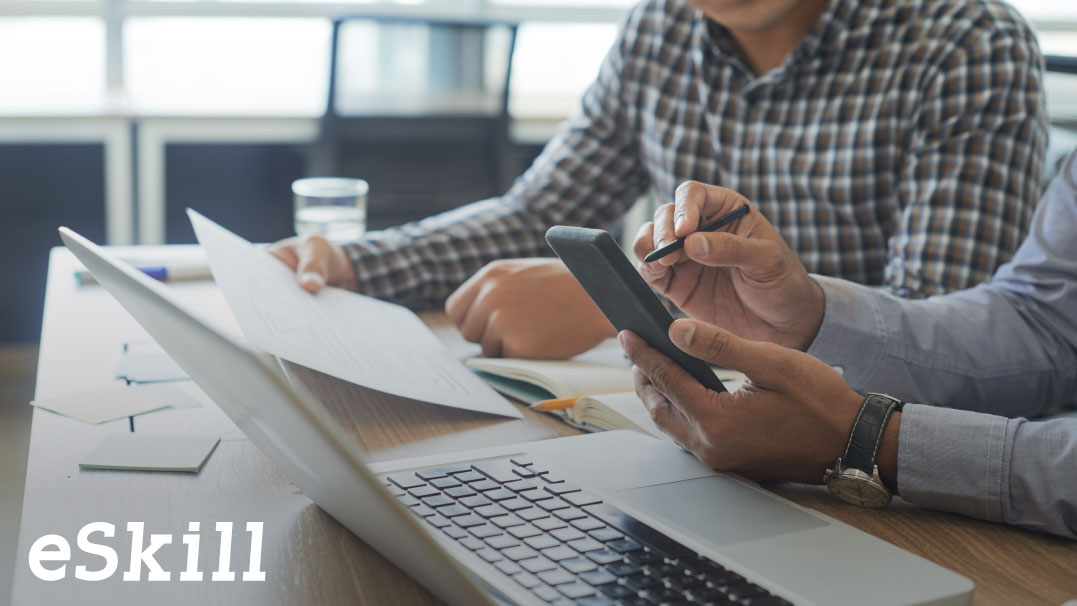 Thanks to the tight labor market, recruiting has become a longer and more expensive process. Introducing automation into the hiring process shortens the time it takes to hire and saves your company money. And, businesses have caught on quickly. According to the Talent Board's 2018 North American Candidate Experience research report, over 71% of organizations now use some form of a pre-employment screening test.
Utilizing eSkill's wide variety of customizable pre-employment skills tests allows your company to streamline the hiring process and mitigate the risk of hiring "mistakes." eSkill's dedicated U.S.-based Client Success Managers will assist your team in creating valid and reliable pre-employment tests by following these steps.
Perform a Job Analysis
The basis for successful job performance is finding candidates who have the required skills, aptitude, and personality traits. eSkill's professionals will assist your hiring team with developing valid pre-employment skills tests by first analyzing the requirements of jobs.
The key to obtaining objective data that will predict candidate performance is selecting or creating skills tests that are valid and that starts with performing a job analysis. Identify the outcomes expected from successful job performance in alignment with organizational goals. Then identify the knowledge, skills, and abilities that drive success in those outcomes and develop a model of core competencies surrounding them.
Customize the Assessment
Create a customized assessment to evaluate candidates on the specific core competencies identified during the job analysis. eSkill's expert staff will assist you in selecting, developing, or customizing a pre-employment skills test that evaluates the identified core competencies. eSkill has hundreds of job-based and subject-based assessments, over 600 module subjects, and over 5,000 subtopics to choose from. Any test can be customized to reflect the requirements of a particular position.
Establish Validity
Give the assessment test to existing employees and analyze the results to determine if high-performing employees score high on the test and if low-performing employees score low on the test. If test scores correlate with actual on-the-job performance, then it is reasonable to assume that the test is valid.
Develop a Consistent Hiring Process
Every candidate that applies for a particular job must clear the same checkpoints, in the same order. In other words, candidates vying for the same position must take the same assessment at the same point in the hiring process. Maintaining this consistency ensures compliance with guidelines enforced by the Equal Employment Opportunity Commission (EEOC).
Administer the Assessment
eSkill's pre-employment skills tests are easily accessible via the online platform, so candidates can access the skills test anywhere and anytime. The assessments are fully automated, and candidates have access to 24/7 customer support should they run into any issues.
After candidates have completed the skills assessment, the designated hiring team will be notified. The hiring team is then able to view the results at a time that is most convenient for them. Results can be reviewed, shared, and made into detailed reports on the eSkill dashboard.
Make Informed Hiring Decisions
Compare the results of candidates' assessments against the existing employees' scores, as well as across candidates. This quantitative data can then be used to make hiring decisions. To minimize subjectivity and make the best use of evidence-based approaches, you should preplan how the information will be used. This could mean that candidates who pass are scheduled for an interview or are asked to take another pre-employment test to shorten the list of qualified candidates even further. There are a number of ways to evaluate this information to optimize the likelihood the chosen candidate will be well suited for the position.
Perform a Predictive Study
Six to 12 months after hiring individuals who took the pre-employment screening test, objectively review their on-the-job performance as compared to their pre-employment test scores. 
Following these five steps, with the assistance of eSkill's expert staff, is critical to determining that a pre-employment test is valid and reliable. The assessment must meet this basic criterion in order to be compliant with the Uniform Guidelines on Employee Selection Procedures of 1978. Legally, employers must adhere to these guidelines when administering any assessment for employment.
Maintaining EEOC compliance is straightforward when partnering with eSkill. In fact, eSkill boasts a nearly 20-year record of EEOC compliance, which is the best in the hiring assessment industry. As a trusted assessment provider, eSkill equips employers with a legally defensible platform for evaluating candidates.
Ensure that your company is hiring the best candidates possible. Identify applicants who have the skill set required, efficiently and effectively with eSkill's pre-employment screening tests.
Interested in Screening Applicants with Pre-Employment Tests?
Learn more about the benefits of using eSkill's pre-employment screening tests to find qualified candidates quickly.
Request a demo today.