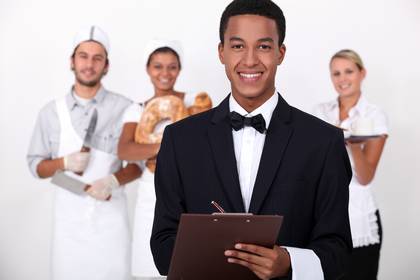 Since 2008 there has been a well-known hiring freeze in the hospitality industry. Luckily for recruiters in this industry, this hiring freeze is slowly starting to thaw. Hospitality employers posted 35% more jobs on their websites in 2011 than they did in 2010, and the upward trend continued well into 2012 according to a report by hrcareers.com. As a hospitality employer, you should be prepared to see increased competition for skilled managers and employees.
For those hard-to-fill positions, you may be forced to do some strategic recruiting. Your best staff members may start to consider leaving for better opportunities as this market begins to open up. Now is a prime time to refocus your recruiting efforts and find out the best way to find the most qualified staff for the job. Luckily, we've done that for you. Strategic hiring is more than just hiring for the here and now; it means hiring for tomorrow, the day after tomorrow, and five years down the road. Thinking ahead is essential in the post-recession era, especially in the hospitality industry. Here are a few things to look for when recruiting and hiring within this industry.
Stop Cutting Corners
When it comes to the new-hire screening and selection process, many companies in the hospitality industry cut corners when hiring hourly employees. However, if you think about it, the hourly employee who works your front counter is the first person the customer meets, essentially their first impression of your company. Make sure that when you are screening for new hires, you're looking for employees that not only meet your company's values and standards but also exceed them. This process can be daunting for what seems like a minor position, but in the long run your hourly employees, if treated right, will become your managers.
Look to the Future When Hiring
Don't hire a candidate for what he or she can do today. Hire new staff for the job they'll be able to assume in the future when they can be given greater responsibilities. When hotels hire in this way, there is a big payoff in the end. Higher-level roles in hotels are often filled internally rather than externally. This prevents fresh hires from having to learn everything from the ground up. If you hire to promote, they will be able to learn about the industry and your hotel, and also get to know the majority of the staff. This increases the chances of company loyalty.
Seek Relevant Job Experience
This is important in the hospitality industry because many hotels and other services work the same way. The longer a candidate has been on a job that fits the role you are hiring for, the higher the chances that he or she will fit into the organization quickly. On the other hand, a resume listing a number of short-term jobs can be a red flag. All hires have a learning curve, but when it comes to hospitality, the quicker they are up and running, the fewer roadblocks they will face when it comes to handling customer issues.
The hospitality industry includes a wide variety of different kinds of companies and job roles. Recruiting, hiring, and training in the hospitality industry can be an ongoing and constant challenge. But if you put more effort into the process and think strategically, you will lower your turnover, which will help not only your company's Human Resources department but also your bottom line.
OSF: Rapid Growth Demands Aggressive Recruiting Strategy
OSF Global Services uses eSkill assessments to measure the specific technical skills needed for its varied IT professional positions. This has allowed them to reduce the costs of the selection process by 64% and the time spent by 68%.
View Now
Jessica Miller-Merrell
Jessica Miller-Merrell, SPHR, is an author, speaker, Human Resources professional, and workplace social media expert who has a passion for recruiting, training, and all things social media. She is the president and CEO of Xceptional HR, and a leader in the HR community with more than 12 years of industry experience. The author of Tweet This! Twitter for Business, Jessica was named by HR Examiner as the second most influential recruiter on the Internet and the seventh most powerful woman on Twitter. She is a columnist for both SmartBrief and The Huffington Post, in addition to Blogging4Jobs and Human Resources One on One. Jessica has been interviewed for professional articles in CIO Magazine, Entrepreneur Magazine, SHRM's HR Magazine, and on CBS. Jessica earned a Senior Professional in Human Resources designation in 2008, and holds a bachelor's degree in Anthropology and Business from Kansas State University. Originally from a small town in Kansas, Jessica currently lives near Oklahoma City with her husband, Greg and daughter, Ryleigh.