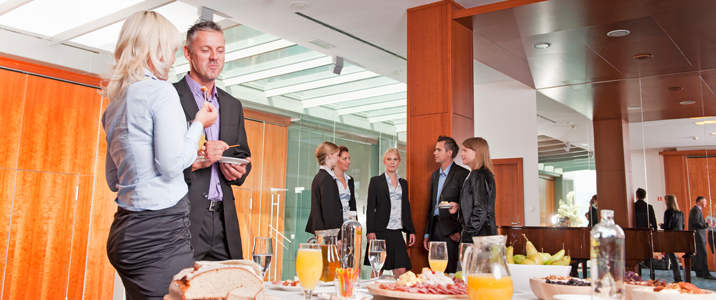 If you're going to the trouble to host a company event, make sure that it's something your employees will actually want to go to. The last thing anyone wants to do is spend extra time at work for a corporate event that feels like an obligation more than anything else. This time of year, you have your Christmas parties, your New Year's celebrations, and every other event that cuts into people's downtime. Since everyone has additional personal events to attend as well, the work-life balance can get out of sync.
Companies can change this dynamic by consolidating their celebrations into fewer events, and they can up the enjoyment factor by introducing low-cost, fun elements to their next event. This will not only boost your company's image, but employees will be happier to attend and will stay longer—and the improved morale may ultimately translate into more motivation and productivity in the office.
If you want to make it worth your employees' time to come to your corporate events, here are a few ways to do it.
Offer some exciting giveaways.
Have you held corporate events that were very important for the company, but not many employees showed up because they thought it would be boring? One way to encourage people to come and mingle with their co-workers is to offer up some exciting giveaways.
There's always the raffle idea for an iPad or gift card. But how about raffling off an extra few days of vacation, or the option of coming to work dressed casually? Or you can tell your employees that if a certain number of them make it to the event, everyone will get a casual day or a pizza lunch. Everyone loves these kinds of simple perks – and what's even better is they don't have to cost a lot of money.
Think up a themed night.
Who doesn't love a good poker night? Take a page out of the James Bond movie book and host your own poker night filled with champagne, poker, craps, roulette, and prizes! If you're hosting a corporate event to share news about your company, make that happen before all the fun starts, so you can have as many employees there for the important parts as possible.
Host your event at an exciting location.
Get out of the mindset that all of your corporate events have to be done in your corporate offices or in hotel ballrooms. Think outside the box and find a fun casual restaurant, winery, or other venues that most companies wouldn't think of. This will not only help increase the interest and attendance levels, but it will also give your employees a night to remember.
People don't want to spend their evening at a corporate function that has no direct benefit to them. It's really important to respect your employees' time when it comes to hosting functions outside normal working hours, so make it a very occasional event. If you want to have more regular team-building get-togethers, knock off work early on a Friday afternoon for a low-key happy hour. Another suggestion would be to delay opening your office the next day (if possible), if employees have to spend their evening working or attending a required corporate event.
Find out what your employees enjoy and what makes them see corporate events as more desirable, and you'll see not only an increase in attendance but improved company morale and productivity as well.
Jessica Miller-Merrell
Jessica Miller-Merrell, SPHR, is an author, speaker, Human Resources professional, and workplace social media expert who has a passion for recruiting, training, and all things social media. She is the president and CEO of Xceptional HR, and a leader in the HR community with more than 12 years of industry experience. The author of Tweet This! Twitter for Business, Jessica was named by HR Examiner as the second most influential recruiter on the Internet and the seventh most powerful woman on Twitter. She is a columnist for both SmartBrief and The Huffington Post, in addition to Blogging4Jobs and Human Resources One on One. Jessica has been interviewed for professional articles in CIO Magazine, Entrepreneur Magazine, SHRM's HR Magazine, and on CBS. Jessica earned a Senior Professional in Human Resources designation in 2008, and holds a bachelor's degree in Anthropology and Business from Kansas State University. Originally from a small town in Kansas, Jessica currently lives near Oklahoma City with her husband, Greg and daughter, Ryleigh.