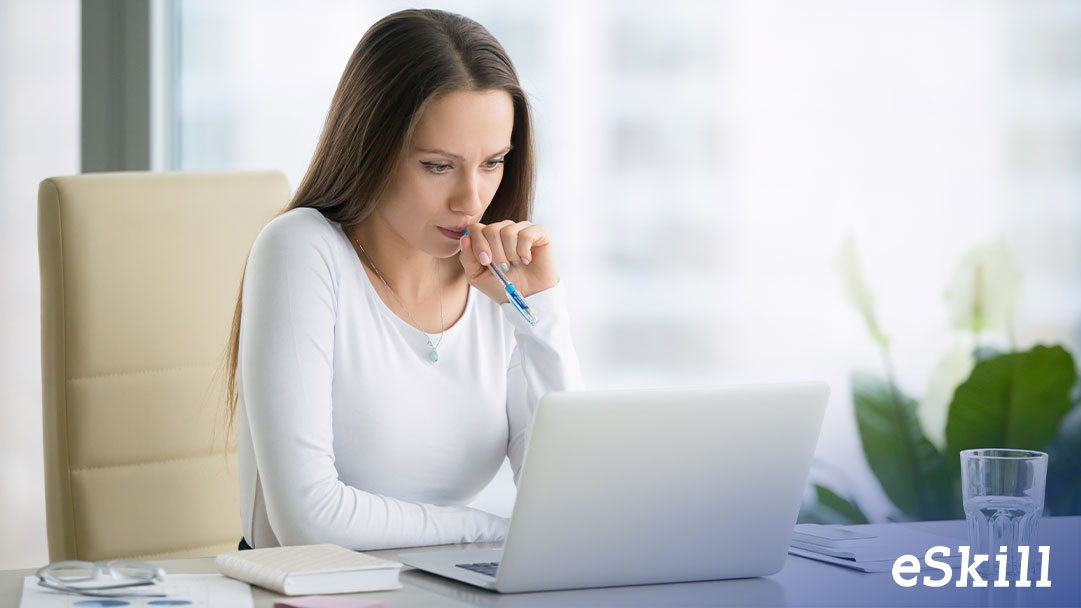 In what feels like the blink of an eye, we have gone from unemployment rates at an all-time low to some of the highest unemployment rates we have seen as a result of the coronavirus pandemic. This means talent professionals face a new challenge–vetting what feels like an overwhelming number of candidates.
Developing a systematic process for evaluating candidates that harnesses the power of automation is the key to ensuring your hiring funnel does not reach a breaking point. eSkill's online suite of pre-employment testing solutions gives organizations the technology-driven tools needed to find quickly top talent in an endless sea of applicants.
A Larger Talent Pool Takes Longer to Vet
One upside to the exceptionally high unemployment rate is there is a much larger pool of talent to choose from. While a larger talent pool means the odds of finding candidates with the right skill sets are higher than in a candidate-driven talent market, it can also lead to a never-ending flood of unqualified applicants.
The candidate situation is far different than it was a few months ago, and maybe even a few weeks ago. The sudden economic downturn and the resulting high unemployment rate have sent candidates into a panic. Rather than carefully applying for positions, many job-seekers apply for any and all positions.
Since vacancies will undoubtedly have a higher number of applicants than usual, it will take more time to qualify talent if you do not modify hiring methods to meet the new demand. eSkill's innovative platform provides organizations with automated processes and tools to handle a massive influx of applicants.
Customized Pre-Employment Assessment Tests Help You Find the Right Talent
Online pre-employment assessment tests are a powerful tool when implemented correctly. Since the COVID-19 crisis has resulted in new or changing business demands, many roles within organizations have changed. Therefore, before selecting or configuring skills tests for open positions, it is imperative that you carefully define positions' requirements. By detailing the critical skills and knowledge needed for a job, you can select a pre-prepared test or use eSkill's Test Editor to configure an employment assessment test that identifies candidates. This increases the likelihood of placing the right person in the right position by 50% to 80%.
With eSkill's Test Editor, hiring teams can:
Select from an extensive library of over 800 subject- and job-specific skills tests and thousands of modular topics, and simulations
Combine multiple tests or modular subjects
Edit, add or remove questions
Designate time limits per test or per question
Customize instructions
Add open-ended questions
Include voice or video questions
eSkill makes selecting or configuring an employment assessment test that aligns with the specific requirements of a position simple. eSkill's dedicated U.S.-based Client Success Managers are available to help hiring teams generate or select skills tests that will verify candidates' skill sets quickly and accurately.
Automate Shortlisting of Qualified Candidates
eSkill provides the ideal framework to streamline the candidate selection process, thanks to its user-friendly Employer Dashboard, customizable reports, and real-time feedback for hiring teams and test-takers.
Using eSkill's pre-employment tests at the top of the hiring funnel enables organizations to automate the shortlisting of qualified talent. On eSkill's Employer Dashboard, hiring teams can instantly rank, auto-progress, or redirect candidates. By leveraging eSkill's pre-employment assessment tests to select candidates based on verified skills and knowledge, quality-of-hire improves, which in turn increases productivity while reducing hiring costs.
Avoid the "Unemployment Bias" Trap
As time progresses, more and more applicants will have extended periods of unemployment. As the economic impact of the COVID-19 crisis continues to linger, talent professionals must not view long stretches of unemployment negatively. When organizations use pre-employment assessment tests as a proxy for fit, the possibility of falling into the trap of "unemployment bias" is eliminated. Hiring decisions driven by objective data are not subject to conscious or unconscious bias, which improves the quality of candidates selected.
Maintain a Positive Candidate Experience
When the talent pool grows, so does the amount of tasks. eSkill's innovative platform enables hiring teams and recruiters to keep candidate communication flowing throughout the hiring process. After ranking candidates based on test scores, you can easily send automated communications to test-takers based on their scores. With eSkill's user-friendly Employer Dashboard, you can send top candidates a request to complete an on-demand video interview and notify unqualified candidates the results of their skills test and encourage them to apply for jobs that are more closely aligned with their competencies.
eSkill's on-demand video interviews further automate and streamline the hiring process. Job-seekers simply record their responses to a set of pre-recorded questions and then hiring teams view, score, and share the results at their convenience.
Automating large portions of the hiring process is especially important when unemployment rates are high. eSkill's online pre-employment assessment tests, automated communications, and on-demand video interviewing solutions enable organizations to move top talent through the hiring process quickly and effectively, even when the number of applicants seems endless.
Interested in Pre-Employment Testing Solutions?
Learn more about the benefits of using eSkill's pre-employment assessment tests and on-demand video interviews to find qualified candidates quickly.
Request a demo today.