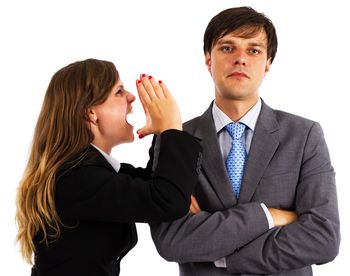 A recent survey conducted by CareerBuilder stated that 35% of workers felt they were bullied at work—an increase from 27% a year prior. One of the biggest challenges faced by human resources staff is dealing with harassment in various forms in the workplace. Creating a workplace environment that's free of harassment can be a daunting task for any human resources professional. Harassment in any form should not be tolerated, but sometimes it can be hard to prevent.
For example, an eccentric dresser might be teased for his or her fashion taste. While we're no longer in the 5th grade, this type of harassment is not necessarily illegal. Workplace harassment is any unwelcome or unwanted conduct that denigrates or shows hostility or an aversion towards another person on the basis of any characteristic protected by law. You might be wondering exactly what kinds of  workplace harassment is actually illegal. According to Title VII of the Civil Rights Act of 1964, federal and state laws impose liability on employers for failing to prevent specific kinds of harassment on the job which alter the conditions of employment by creating a hostile work environment.  The EEOC website includes specific information about what kinds of behavior constitutes workplace harassment.
As an HR professional, you might be wondering how to prevent or deal with workplace harassment. We could list 100 things to do in order to prevent all kinds of workplace harassment, but here are a few of the major things to start doing in your workplace, if you haven't already.
Start with Education & Training
One of the first things to put into place is an education and training program that covers all forms of harassment. Educate employees to make sure the harassment policy is clear, and provide it in writing in your employee handbook to leave no room for misunderstandings. You should always make this training a part of the orientation or on-boarding process. Skip the boring video that was likely made in the 80s, and have your HR Director speak directly to new employees about the consequences of workplace harassment.  Provide follow-up training to anyone suspected of any type of workplace harassment, and keep careful records in individual files if any complaints are made.
Create an Ombudsman Role
A lot of organizations are creating this role to give employees an opportunity to talk to someone other than a senior-level person. The ombudsman is an individual charged with investigating and resolving matters. This position might offer a more impartial forum for resolving complaints outside of the human resources department.
Set the Right Expectations
The human resources department can't be all-knowing and aware of every problem going on in an organization. Setting proper expectations for directs/department heads /supervisors will give the human resources department a better sense of what's happening within the organization. If everyone is working together to make the workplace harassment free, it's likely to decrease the number of incidents.
Workplace harassment shouldn't be taking lightly. If your company doesn't have any type of policies in place or a way for employees to voice concerns, start today. Employers are liable and it can be quite costly—it can even cost you your job—if nothing is done to prevent occurrences from happening.
Jessica Miller-Merrell
Jessica Miller-Merrell, SPHR, is an author, speaker, Human Resources professional, and workplace social media expert who has a passion for recruiting, training, and all things social media. She is the president and CEO of Xceptional HR, and a leader in the HR community with more than 12 years of industry experience. The author of Tweet This! Twitter for Business, Jessica was named by HR Examiner as the second most influential recruiter on the Internet and the seventh most powerful woman on Twitter. She is a columnist for both SmartBrief and The Huffington Post, in addition to Blogging4Jobs and Human Resources One on One. Jessica has been interviewed for professional articles in CIO Magazine, Entrepreneur Magazine, SHRM's HR Magazine, and on CBS. Jessica earned a Senior Professional in Human Resources designation in 2008, and holds a bachelor's degree in Anthropology and Business from Kansas State University. Originally from a small town in Kansas, Jessica currently lives near Oklahoma City with her husband, Greg and daughter, Ryleigh.